RUBBER : Chlorosulphonated Polyethylene (CSM)
Chlorosulphonated Polyethylene or CSM – also known as Hypalon® – is to be considered an improved chloroprene as it offers better chemical resistance, ozone and light resistance, heat ageing.
Their particular resistance to weathering conditions and the excellent low gas permeability presents CSM as the best option for the manufacture of premium quality inflatable boats and structures for all environments, but most of all in sea environment.
With low fuel resistance, CSM is not meant to made bladders or any product in long contact with oils. However, due to its high environment resistance it was widely used in the manufacturing of bellows for trains and buses. Nonetheless, since the regulations evolved, now it hardly arrives to the standards of fire resistance and smoke on fire liberation.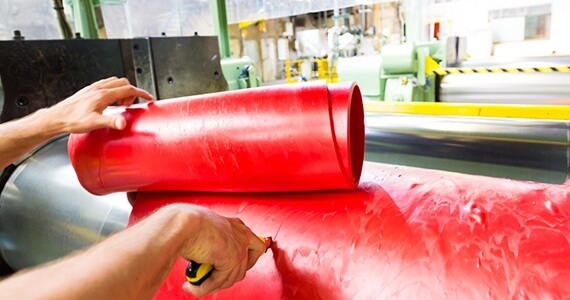 GENERAL PROPERTIES
min - max
Hardness ShA
30 - 90 ShA
Hardness IRHD
30 - 90 IRHD
Tensile Strength
8 - 20
Operating temperature
Continuous Temperature
-40 C° - 120C°
Point Température
-40 C° - 130C°
Resistances
Resistance to solvents
Resistance to acids
oxygen Ageing
Ozone Ageing
light Ageing
cold Ageing
--
heat Ageing
--
Most common applications: Ribs for inflatable boats. Inflatable sea or land structures, bellows for transportation systems, seals, etc.
Ask for information
The company Colmant Coated Fabrics, as Data controller, undertakes to respect the law n ° 78-17 of January 6, 1978 modified relating to data processing, the files and the freedoms with regard to the automated processing of data personal information and Regulation (EU) No 2016/679 of 27 April 2016 from its application on 25 May 2018. The information collected on this form is recorded in a computerized file by Colmant Coated Fabrics to prepare your quotation or answer to a contact request. They are kept the time that our services interest you. In accordance with the Data Protection Act, you can exercise your right of access to your data and have it corrected or cancelled by contacting Colmant Coated Fabrics 44 rue louis Braille 59370 Mons-en-Baroeul or by
our personal data management form
. The data and / or information on our website are indicative and are not contractual. Colmant Coated Fabrics reserves the right to modify them at any time without prior notice.