CR or Chloroprene Rubber, commonly known as Neoprene®, was the best option to manufacture products that are to be in contact with oils and fuels in the past.  Nowadays, Neoprene® is considered to have a moderate resistance to these components.
However, Chloroprene Rubber can be considered a mix solution as it has better resistance to a diverse source of degrading agents (like oil, ozone, chemicals and heat) than Natural Rubber. Instead Neoprene® presents lower physical properties.
In spite of the physical properties, Neoprene® has a perfect airtightness, therefore it is widely used in the manufacture of inflatable structures of all sort. Its resistance to fire is also excellent, and can be presented in self-extinguishing formulations if required.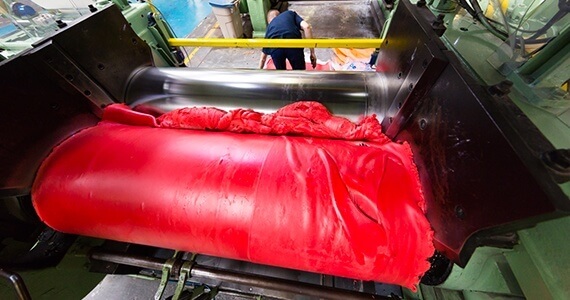 GENERAL PROPERTIES
min - max
Hardness ShA
30 - 90 ShA
Hardness IRHD
30 - 90 IRHD
Tensile Strength
8 Mpa - 20 Mpa
Elongation at break
100% - 900%
Operating temperature
Continuous Temperature
-35 C° - 95C°
Point Température
-35 C° - 105C°
Resistances
Resistance to solvents
Resistance to acids
oxygen Ageing
Ozone Ageing
light Ageing
cold Ageing
--
heat Ageing
--