NBR/PVC COATED COTTON FABRIC
Cotton is a natural fiber of vegetal origin. The cotton thread is derived from the transormation of Gossypium bristles (or cotton). Commonly we also referred under the same name the fabric after the weaving of the wire. Cotton is the first textile fiber used in the world despite the advent of synthetic fibers. It is inflamable and starts decomposition at 160 ° C. Cotton is popular thanks to its characteristics: aspect, lightness, comfort and ease of assembly and processing.
As NBR is blended with PVC ageing resistance is improved. Likewise, flame, ozone and petrol resistance are largely improved.
Especially designed for particular applications, the formulation of this blend is destined to high-quality products that require an especial environmental resistance as much as the oil and fuel endurance.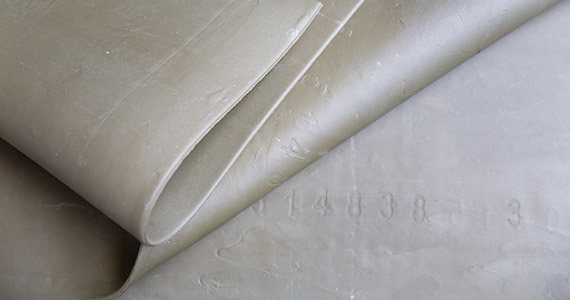 | General Properties | min - max |
| --- | --- |
| Warp breaking strength | 75 - 120 daN/5cm |
| Weft breaking strength | 70 - 90 daN/5cm |
| Warp elongation at break | 10% - 20% |
| Weft elongation at break | 10% - 20% |
| Weight per sqm | from 550 gr/m2 |
| Thickness | Upon request |
| Peeling strength | Upon request |
| Continuous Temperature | -20 C° à 100C° |
| Point Temperature | -20 C° à 110C° |
Properties

Fireproofed

Non-skid

Oil storage

Fuel storage

Ozone Resistance

Cold resistance
| General Properties | min - max |
| --- | --- |
| Warp breaking strenght | 75 - 120 daN/5cm |
| Weft breaking strenght | 70 - 90 daN/5cm |
| Warp elongation at break | 10% - 20% |
| Weft elongation at break | 10% - 20% |
| Weight per sqm | 200 - 400 |
General Properties
min - max
Hardness ShA
30 - 90 ShA
Hardness IRHD
30 - 90 IRHD
Tensile Strength
8 - 20
Elongation at break
100% - 900%
Operating temperature
Continuous Temperature
-20 C° - 100C°
Point Temperature
-20 C° - 110C°
Resistance
Solvent resistance
Acid resistance
oxygen ageing
Ozone ageing
light ageing
Cold ageing
--
heat ageing
--
Industrial fabrics,
straps,
tarps,
tires,
rope,
clothing,
Gas tanks.
The family AROMER