Natural rubber is an emulsion containing 60-80% water, which flows from the bark. It is located in small particles suspended in the latex, of which it represents 90% of the dry weight. It is a natural polyisoprene.
Advantages of natural rubber
Excellent mechanical properties.
Good compression.
Fairly good resistance to water and non-mineral detergent acids.
Tear resistance
Limits: poor resistance to UV and hydrocarbon-based solvents (aliphatic and aromatic), oils or petroleum derivatives
Example of natural rubber applications
Gaskets
Tires…
Gloves
Pipes
Balloons
Sectors of use :
Automotive
Building
Aeronautics
Our design office is out your disposal to accompany you.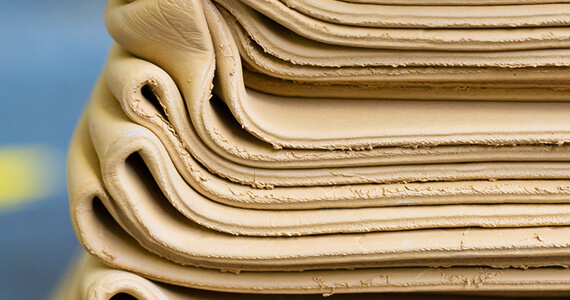 GENERAL PROPERTIES
min - max
Hardness ShA
30 - 90 ShA
Hardness IRHD
30 - 90 IRHD
Tensile Strength
8 - 20
Elongation at break
100% - 900%
Operating temperature
Continuous Temperature
-50 °C - 70 °C
Point Température
-50 °C - 80 °C
Resistances
Resistance to solvents
Resistance to acids
oxygen Ageing
Ozone Ageing
light Ageing
cold Ageing
--
heat Ageing
--
Most common applications: Automobile door seals, hoses, profiles for windows and doors, tennis or golf balls, gloves, tubes and pipes, tires, coated fabrics, roofing, pharmaceutical stoppers, seals, tires …
Ask for information
The company Colmant Coated Fabrics, as Data controller, undertakes to respect the law n ° 78-17 of January 6, 1978 modified relating to data processing, the files and the freedoms with regard to the automated processing of data personal information and Regulation (EU) No 2016/679 of 27 April 2016 from its application on 25 May 2018. The information collected on this form is recorded in a computerized file by Colmant Coated Fabrics to prepare your quotation or answer to a contact request. They are kept the time that our services interest you. In accordance with the Data Protection Act, you can exercise your right of access to your data and have it corrected or cancelled by contacting Colmant Coated Fabrics 44 rue louis Braille 59370 Mons-en-Baroeul or by
our personal data management form
. The data and / or information on our website are indicative and are not contractual. Colmant Coated Fabrics reserves the right to modify them at any time without prior notice.