Natural rubber is to be considered as the sole non-synthetic rubber. This particular rubber can be recycled for the reutilization, mostly for the manufacturing of tires. New methods of recycling natural rubber are under development to diminish the ecological impact of used tires and other products.
Its commercialization and industrial use began as early as the beginning of the 20th century and the introduction of the automobile in society. Obtained from the sap of the Hevea Brasiliensis tree – milky white fluid – the evolution of the extraction methods has led nowadays to renewable plantations.
Detaining excellent physical properties (elongation at break, tensile strength and abrasion) and presented in a widespread range of hardness, natural rubber has the best elasticity among all rubbers. Under ambient conditions (a mmix of the right temperature, sun exposition, rain and wind) natural rubbers shows almost perfect fatigue resistance, excellent compression and tear strength which makes it ideal for any dynamic applications.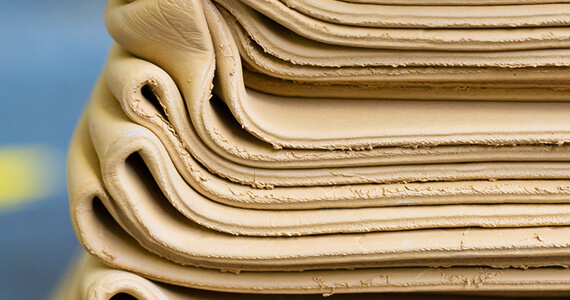 GENERAL PROPERTIES
min - max
Hardness ShA
30 - 90 ShA
Hardness IRHD
30 - 90 IRHD
Tensile Strength
8 - 20
Elongation at break
100% - 900%
Operating temperature
Continuous Temperature
-50 °C - 70 °C
Point Température
-50 °C - 80 °C
Resistances
Resistance to solvents
Resistance to acids
oxygen Ageing
Ozone Ageing
light Ageing
cold Ageing
--
heat Ageing
--
Most common applications: Automobile door seals, hoses, profiles for windows and doors, tennis or golf balls, gloves, tubes and pipes, tires, coated fabrics, roofing, pharmaceutical stoppers, seals, tires …