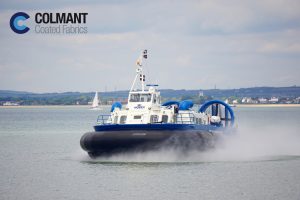 Colmant Coated fabrics designs and manufactures a wide range of technical rubberized fabrics which can be used in Hovercraft's manufacturing.
Our coated fabrics are made up with neoprene (CR) or chlorosulphonated Polyethylene support (CSM, Hypalon© of Dupont) coated polyester or polyamide.
Those coated fabrics used for Hovercraft skirts are particularly suitable for applications related to sea water and UV.
They have a high resistance to cold, chemicals and fuels.
Natural rubber (NR) can also be used for Fingers manufacturing thanks to excellent abrasion resistance, and the ability to withstand the different environments in which the hovercraft operates (concrete, sand, sea water).