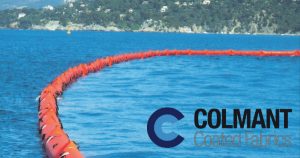 Colmant Coated Fabrics offers a wide range of fabrics coated elastomer which can be used in the manufacture of oil booms.
Our coated fabrics are made up with neoprene (CR) or  chlorosulphonated Polyethylene support (CSM, historically created under the name Hypalon© of Dupont) coated polyester or nylon.
Our coated fabrics are particularly suitable for applications related to sea water and the contact with oils and other pollution/chemicals.
The CSM elastomer is the appropriate solution for sea environment, UV and abrasion compared to thermoplastics such as PVC and PU solutions which are single use and disposable.
A boom made with elastomer like CR or CSM has a higher lifetime than a boom made with thermoplastics and leads to eco responsible use.